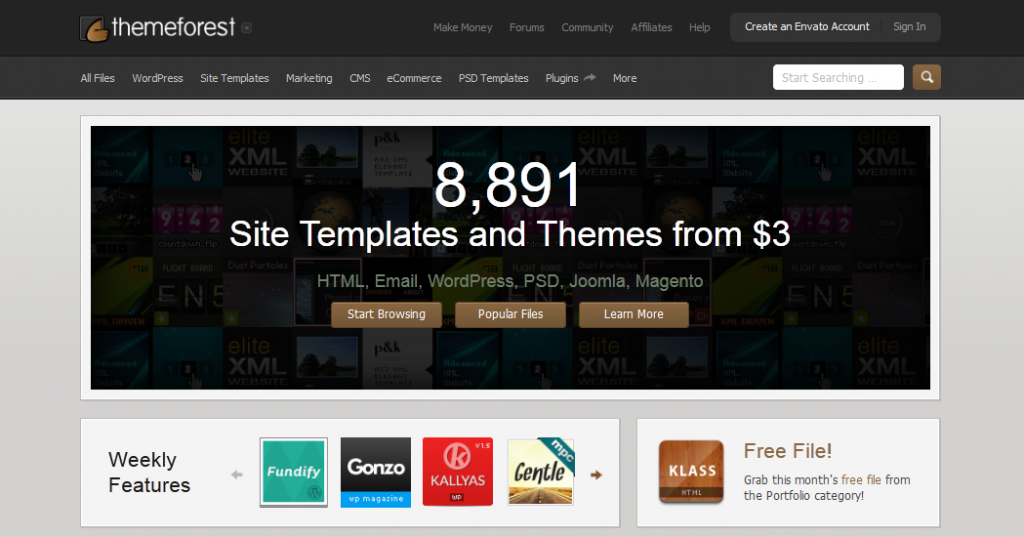 If you choose WordPress for your small business website design then its very good decision. WordPress will increase your work 10 times faster and is perfect for e-commerce.
WordPress Ecommerce Theme Kallyas Review
This theme has the maximum feature that an ecommerce website needs. As this is WooCommerce optimized then this theme is the best choice for WordPress ecommerce website. If you want to know about a theme that the theme is good for your WordPress ecommerce based website then you should know some matters. First, try to know about the developer of that theme. Then, try to know about the theme like it's rating or reviews or how many times that theme sold out etc. matters. Then try to know about the admin panel of that theme and then try to know some live demo of that theme. Then you decide that which theme is best for your WordPress eCommerce website design.
Important information about this theme:
• Theme is from Themeforest.
• Theme is featured on Themeforest themes.
• Developed by elite author on Themeforest.
• Theme cost $55.
• Sold out 9567 time.
• Support Board available.
• Important comments from purchaser and guests.
• Buyer rating is 4.53 based on 1186 ratings.
• Created on February 23, 2013.
• Last updated February 15, 2014.
• Compatible with IE8, Firefox, Safari, opera, Chrome.
• Latest WordPress 3.8 compatible.
• Documentation available.
• Layout – Responsive.
• Widget Ready theme.
• Facebook like 521, twitter follower 25, Google +1-20 times, pin it – 25 times for this theme.
Theme Features
• Customizable amazing page builder
• SEO – Well optimized
• WPML – Available
• Translation – Accessible
• Headers – unlimited
• Colors – Unlimited
• WooCommerce – Integrated
• Demo data- Dummy data available.
• Unlimited variation in homepage
• Versions – Dark and Light
• Slider – Huge modern slider
• Many custom pages
• Cleanness in design and code
• Super flexibility in this theme
• Complete featured theme like blog, ecommerce, corporate, technology, retail, entertainment and creative and many more.
• Powerful Admin panel with lots of options.
• Newsletter integrated like MailChimp
• Bonus Page header – Christmas and Easter
• Photo gallery available
• Dynamic contact form with PHP
Admin Panel Details
• General Option – Logo, favicon, font, WPML, Header, Footer, Default Header, Google Analytics, MailChimp, Facebook Options are available.
• Blog option – Archive options (Blog Columns, Archive Page Title, Archive Page subtitle, Archive Sidebar Position, Archive Default Sidebar) and Single Blog Item Option (Default Sidebar Position, Single Post Default Sidebar, Show Social Share Button). These options are mainly for blog style settings
• Page Option – Page Sidebar Position, Page Default Sidebar, Enable Page Comments.
• Portfolio Options – Portfolio Archive Style, Portfolio Items to Show, Portfolio Items Per Page, Number of Columns.
• Layout Option – Responsive Options, Use Box Layout, Homepage Boxed layout, Content Size.
• Color Option – Main Color, Menu Default Color, Top Nav Default Color, Top Nav Hover Color, Content Background Color, Content Background Image, Grey Area Background Image, Grey Area Background Color, Color Style.
• Unlimited Headers – Header Style Generator (Header Style Name, Background Image, Header Background Color, Add Gradient Over Color, Animate Background, Add Glare effect, Bottom style.
• Unlimited Sidebars – Add new Sidebar.
• Coming Soon Option – Description, Launch Date, MailChimp List ID, Social Icon Title, Social Icon Link, Social Icon.
• 404 Page – Header Style.
• WooCommerce Options – General Options (Show MY CART in header, Show new items badge, Days to show badge), Categories Page (Days to show badge, Shop Archive Page Subtitle, Shop Archive Sidebar Position, Shop Archive Default Sidebar.
• Advanced – Themeforest Username, Themeforest API, and Custom CSS, Install Dummy Data.